Glyn Williams on the Skies Above Acquisition with Axis Digital
Billboard Insider ran an email blast last Wednesday on Skies Above Media's asset transaction with Axis Digital Media.  We caught up with Glyn Williams, the CEO of Skies Above Media, to discuss the transaction.
Glyn, can you provide us with details as to what Skies Above Media purchased from Axis? 
We purchased a billboard structure (along with the permits and the lease) with two 14×48 digital faces on Rosemead Blvd. s/o Broadway in an area of LA called Temple City. Rosemead is also known as SR 19, which is a major thoroughfare running North/South connecting the 10 Freeway and the 210, which deliver approx. 400,000 – 600,000 Geopath impression per digital spot. This is one of the few surface-street digital bulletins that exist in the LA DMA outside of the downtown area.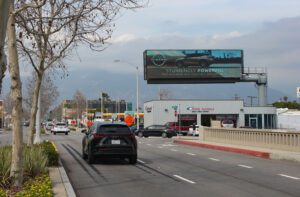 Where in Los Angeles are the assets located?
Temple City is in the San Gabriel Valley, a bit east of Pasadena, Alhambra and Monterey Park, a rich and diverse area within the Los Angeles area.
What does the addition now do to the footprint you manage in the L.A. demo? 
This was a unique situation for us to be, in that we were already consistently working with Axis Digital Media as their rep toward National Agencies while they handled local/regional business themselves. Historically we felt extremely comfortable with our ability to deliver revenue against these — since 2019, we had executed over 200 campaigns across more than 30 different advertisers — while also recognizing that Axis themselves delivered nearly that same revenue against their own local and regional clients. We saw this as a "sure thing" to hit two things at once — double our revenue on the site when we layer in that local & regional ad dollars while also increasing our profit margins by shifting from external rep to owning it outright internally.
You are in a number of markets.  How are you evaluating your current inventory and potential opportunities as you move forward?
We're in growth mode but staying patient and restless at the same time. We love our existing inventory so we're able to pick our spots well. My agency background always led me toward balancing the head and the heart. First and foremost, our hearts have to be in it from the jump. We want everyone in the organization to be proud of the assets we sell. I always start from the lens of "what would I have thought of this if it came across my desk when I was on the agency side?"  and "can I visualize this in our photo sheet and with our name on it." It has to work for everyone involved. One of the principles I learned working on the Amazon business for so long as they start a new product ideation with the customer in mind always. If I wouldn't like it as an agency buyer myself then why would I want our name on it and how could we ask the sales team to go out and sell it? Then the head takes over. Numbers don't lie, unless you let them. It must make sense financially without using fake numbers, over promising, or talking yourself into it. If the heart is the bull, then the head is the rider. The bull rider has to pull back on the reigns to be sure we're being sensible with the investment. That's why it's so important to surround yourself with people who know how to tell you No for the right reasons, it just underscores how right the decision is when everyone says YES.